Industry News
Exploring Blank Sailing Trends: Industry Insights
September 21, 2023
This comprehensive overview delves into current blank sailing trends across major shipping routes, including the Transpacific, Transatlantic, and Asia-North Europe & Mediterranean trades.
Understanding Blank Sailings
Blank sailings, the practice of canceling planned voyages, occur due to various factors such as seasonal demand shifts, trade imbalances, port congestion, labor disputes, adverse weather conditions, and unforeseen events like the COVID-19 pandemic. Notably, in the years 2021-2022, despite increased shipping capacity, supply chain challenges led to a substantial number of cancellations. These blank sailings played a pivotal role in maintaining stable freight rates amid uncertainty.
Reasons for Blank Sailings
Several factors contribute to the occurrence of blank sailings, with holiday seasons being a significant driver. For instance, during events like the Chinese New Year, factory closures lead to reduced shipping demands. However, blank sailings are also influenced by more common reasons:
Low Demand for Container Space on a Vessel: Blank sailings are closely tied to the demand for space on a vessel. If there is limited demand for a specific route or string, shipping lines may opt for blank sailings, resulting in the cancellation of entire voyages.
Shipping Lines Reducing Capacity for Higher Freight Rates: Shipping lines employ blank sailings not only to optimize their operations but also as an opportunity to increase freight rates by canceling previously scheduled sailings.
Port Congestion: Unforeseen port congestion can lead to unexpected delays in the scheduled routine. In such cases, shipping lines may find it more efficient to skip certain ports, contributing to blank sailings.
Mechanical Problems in the Ship: Occasionally, vessels encounter mechanical issues that require urgent repairs, typically at specific locations or ports. These unforeseen problems disrupt the originally scheduled sailings.
Port Strikes and Labor Unrest: Labor strikes at ports, similar to port congestion, can result in blank sailings. Resolving such situations often takes time and can lead to delays in vessel berthing and other port services.
Inclement Weather: Weather-related concerns, such as tropical storms in certain regions, necessitate caution. To ensure safety, ships may cancel their trips to these areas or wait until berthing and sailing conditions are deemed safe again, potentially causing schedule delays.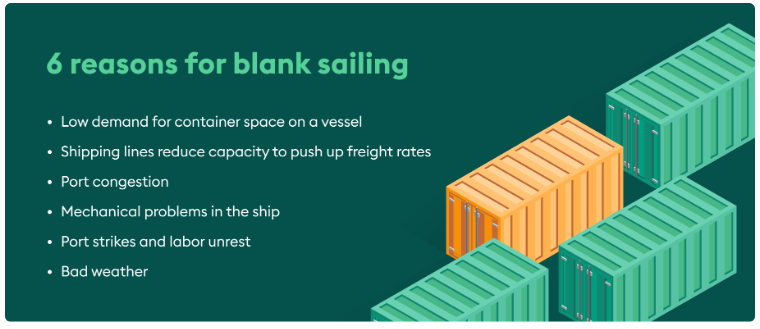 Source: Container-Xchange
Statistical & Historical Insights
Blank sailing rates exhibited notable fluctuations over the past three years:
2019 - 7% blank sailings
2020 - 12% blank sailings in 2020 due to the global pandemic
2021 - 12% blank sailings in 2021, underscoring the industry's adaptability amid ongoing challenges.
2022 - 17% blank sailings
Blank sailing rates experienced a post-pandemic low in August 2021 but resurged in 2022 as carriers adjusted capacity to align with market conditions.
The Suez Canal blockage in March 2022, courtesy of the Ever Given container ship, caused widespread vessel delays, rippling through the shipping industry.
The Chinese New Year holiday in February 2022 reduced China's export volumes, prompting carriers to cancel sailings for capacity adjustments.
U.S. West Coast ports encountered congestion, low productivity, high import volumes, labor disputes, and equipment shortages, prompting carriers to alter sailings to avoid delays and additional costs.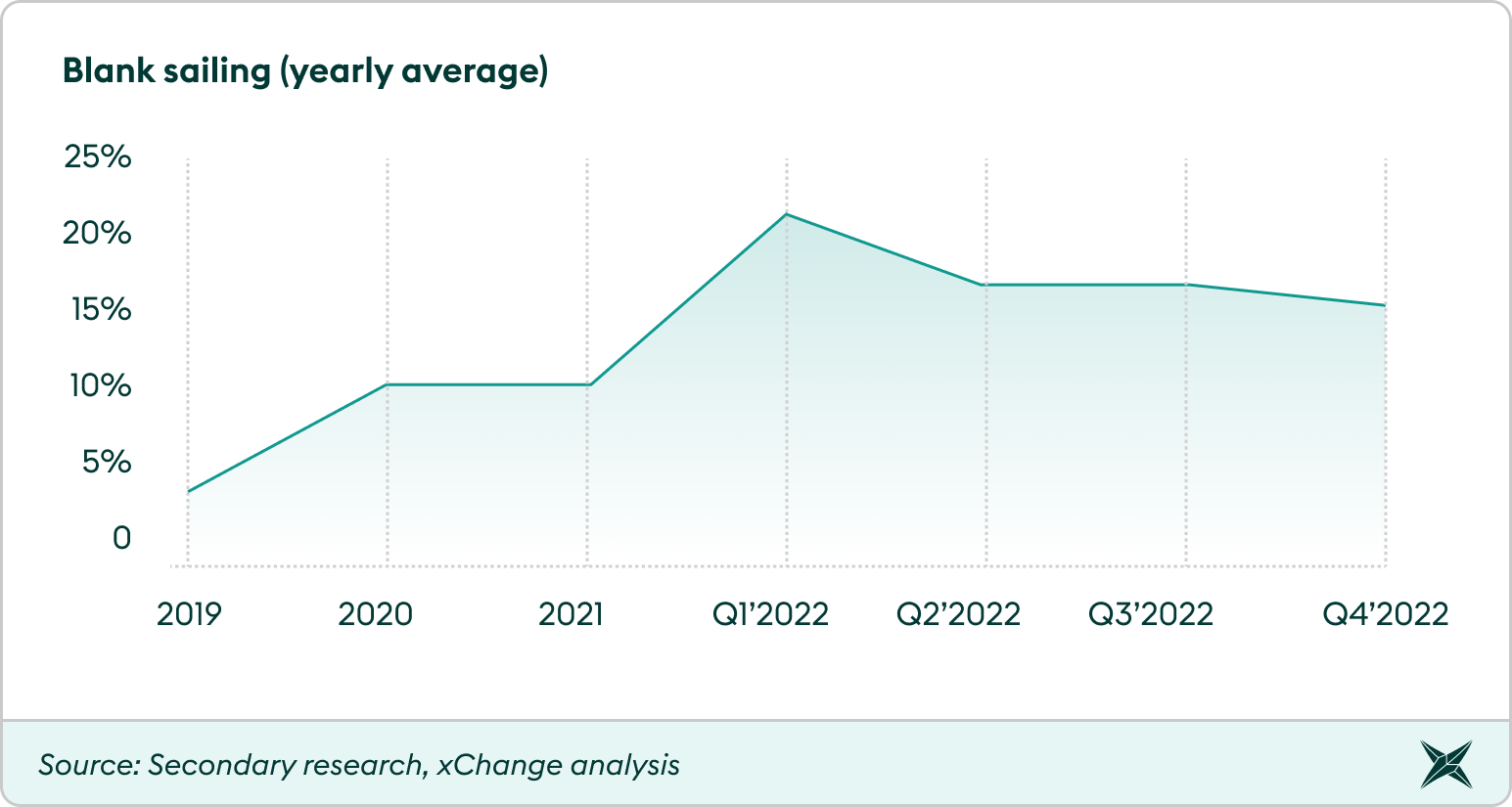 Blank Sailing Trend in 2023
In 2023, the blank sailing trend exhibited fluctuations throughout the year. It started with a peak at 21% in the early weeks and subsequently remained relatively low, reaching 4% during weeks 25 to 29. However, there was a subsequent increase to 7% during weeks 36 through 40. Over the entire period from weeks 2 to 40, out of a total of 3437 scheduled sailings, there was an average of 10.2% of blank sailings recorded, reflecting the dynamic nature of blank sailing occurrences during this year.
Blank Sailing Trend During the Next Five Weeks
Between weeks 38 and 42, there were 104 canceled sailings out of 665 scheduled across major East-West headhaul trades, making up a 16% cancellation rate. Most blank sailings (57%) were in the Transpacific Eastbound trade, followed by Asia-North Europe and Med (37%), and Transatlantic Westbound (7%).
The OCEAN Alliance had 35 cancellations in the next five weeks, while 2M and THE Alliance had 19 and 18, respectively. Non-Alliance services had 32 blank sailings during the same period.
Service reliability has dropped, with only 84% of ships expected to sail as scheduled in the next five weeks.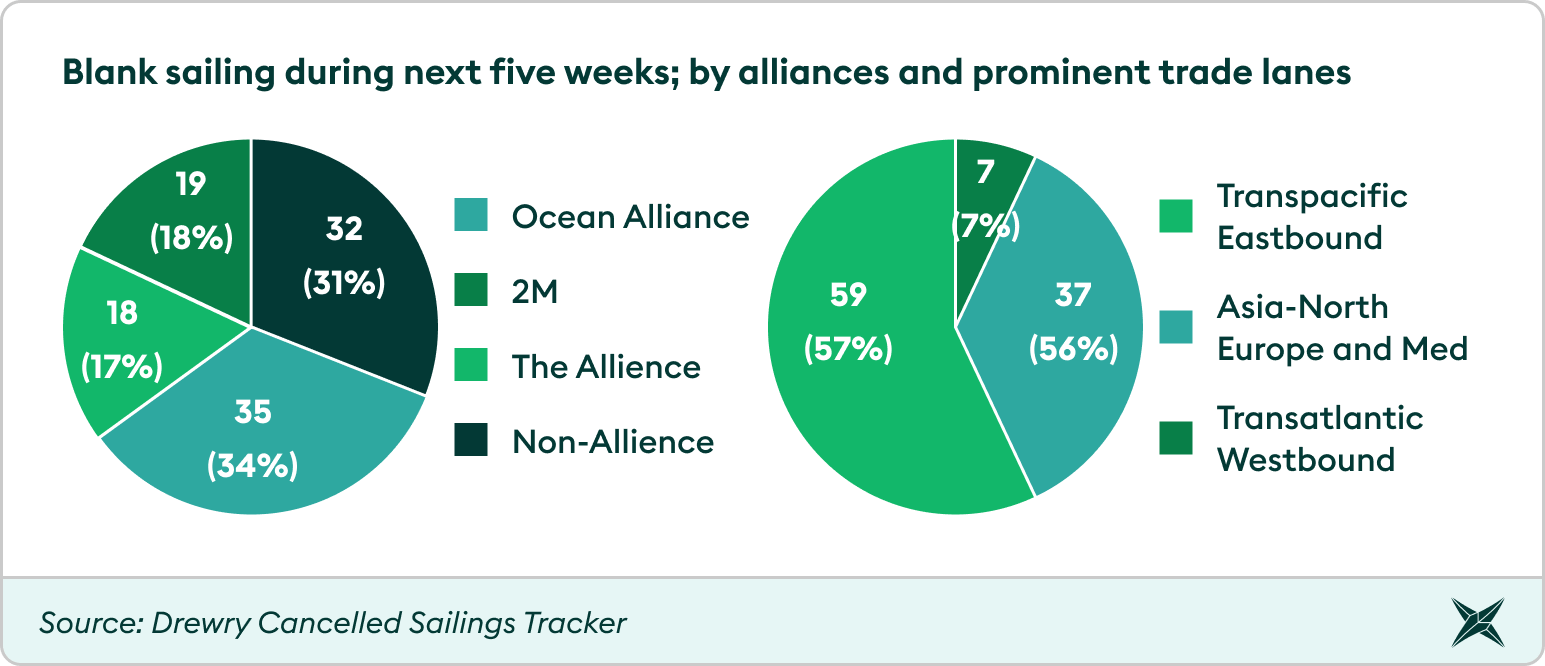 A Cautious Approach Ahead
Looking forward, ocean carriers are taking a measured approach, with a significant upswing in anticipated blank sailings during the fourth quarter on trade routes from Asia to North Europe and the Mediterranean. This surge is driven by the relentless expansion of shipping capacity, a phenomenon outpacing the existing demand, further intensifying the strain on already oversupplied trade lanes.
Blank Sailing Trend During the Upcoming Golden Week
Multiple blank sailings have been announced during the upcoming Chinese Golden Week in early October. This is expected to result in a significant increase, reaching up to 16% in weeks 38 to 42 (September 18 to October 22), primarily due to the holiday season. Ocean carriers are compelled to take decisive measures like adding more blank sailings as spot rates continue to decline, and demand remains weak before China's Golden Week holiday (October 1-7), which traditionally witnesses a surge in bookings before factory closures.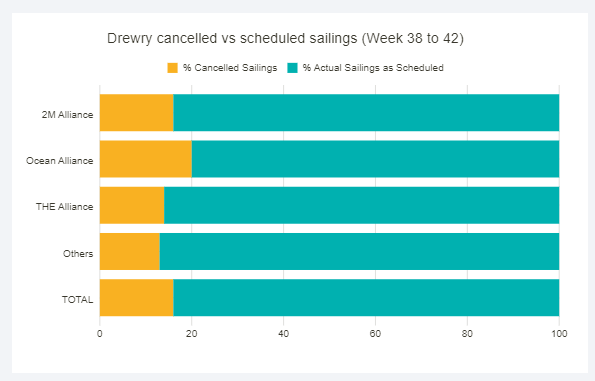 Future Projections
In a broader context, the global order book capacity approaches 30% of the active fleet, exceeding 7 million TEUs. Projections indicate significant capacity additions, with 2.5 million TEUs expected to be delivered by year-end and an additional 3 million TEUs in 2024.
Adapting to Oversupply
To manage this oversupply of container ship capacity, carriers are likely to employ a combination of strategies, including slow steaming, scrapping older vessels, and blanking sailings. These strategies aim to balance capacity with demand and maintain profitability.
Impacts on Stakeholders
Blank sailings have wide-ranging impacts on various stakeholders within the maritime shipping industry:
Businesses Reliant on Maritime Shipping: Blank sailings present significant challenges to companies that depend on maritime transport. They disrupt the timely delivery of goods, potentially leading to stock shortages, production delays, and customer dissatisfaction. The unpredictability of blank sailings complicates inventory management and increases operational costs, affecting overall supply chain efficiency.

Shippers: Shippers experience the effects of blank sailings directly. Apart from causing delays in shipments, blank sailings undermine schedule reliability. Shippers must adapt by ordering goods well in advance or maintaining higher inventory levels, as the just-in-time supply chain model becomes less dependable. These adjustments result in increased operational expenses and can contribute to broader economic inflation.

Backhaul Trade: Blank sailings also impact the backhaul trade, affecting vessels and containers that would typically return with goods. This disruption introduces complexity and uncertainty into trade operations, compounding the challenges faced by shippers in maintaining an efficient supply chain.

Port Operators: Port operations are directly affected by blank sailings, as they alter the volume of ships, impact port personnel workload, disrupt planned sailings, and potentially cause interruptions in cargo flow. Port operators also face financial implications tied to port fee revenue, which is linked to vessel frequency. Additionally, blank sailings can lead to longer waiting times for shippers, resembling a "start-stop" scenario, intensifying congestion issues at the port.

Container Suppliers: Blank sailings disrupt container turnaround times and can create imbalances in container inventory, with shortages in some locations and surplus inventory in others. Companies may need to maintain a larger fleet to offset unpredictable disruptions, incurring higher operational costs. Repositioning containers to balance inventory levels also results in increased expenses. Lower fleet utilization rates can reduce revenue generation and potentially strain shipping companies financially. Effective management and adaptation to the impacts of blank sailings are crucial within the container shipping industry.
In light of these challenges, stakeholders are prompted to find innovative solutions and strategies to mitigate the effects of blank sailings and maintain a resilient supply chain.
Staying Ahead with Eastern Shipping Worldwide
Eastern Shipping Worldwide, a leading freight forwarder, closely monitors these trends. Their dedicated team offers customized solutions to meet individual supply chain needs, ensuring clients navigate the complex landscape of blank sailing trends effectively.
For more insights and tailored solutions to optimize your supply chain, contact Eastern Shipping Worldwide.