Eastern News
Aiming for Goodness: Eastern Volunteers at RMHC-CNI's 25th Annual Sporting Clays Tournament
October 10, 2023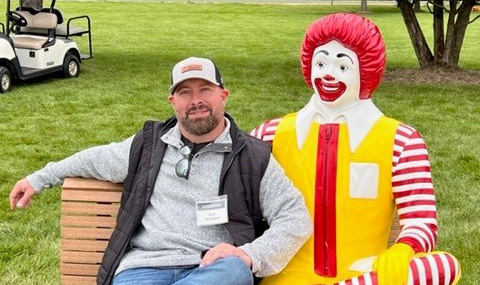 Eastern Shipping Worldwide, Inc. proudly highlights the outstanding commitment of Sales & Business Development Manager, Rick Bloniarz, who volunteered at the 25th Annual Ronald McDonald House Charities Sporting Clays Tournament. This heartwarming event took place on Friday and Saturday, September 22 & 23, 2023, from 8:00 A.M. to 4:00 P.M., at the picturesque Northbrook Sports Club in Hainesville, IL.
On a warm, mild, and sunlit day – ideal for sporting clays – Rick Bloniarz passionately supported a cause close to his heart. Sporting clays, often dubbed "golf with a shotgun," offered an exciting shooting experience. The unique course featured 10 to 15 distinct shooting stations thoughtfully laid out in natural terrain. Unlike predictable trap and skeet shooting, sporting clays replicated the spontaneity of live-quarry shooting, presenting participants with diverse trajectories, angles, speeds, elevations, distances, and target sizes, creating an exhilarating challenge.
The Ronald McDonald House Charities of Chicagoland & Northwest Indiana (RMHC-CNI) orchestrated this two-day extravaganza. It included not only the sporting clays competition but also side event challenges, a delightful cookout picnic lunch, and enticing raffle and silent auction packages. This tournament stood out for its inclusivity, welcoming novice and experienced shooters alike, all contributing to the charitable cause. Awards were presented to the top-scoring squad on each course, based on their average score.
Moreover, this event paid tribute to Glenn & Kathy Lubeznik. In 1999, these McDonald's owner/operators in Northwest Indiana pioneered the first annual Sporting Clays Tournament to benefit the Ronald McDonald House program near the University of Chicago Children's Hospital. This marked the beginning of the Kids & Clays Foundation, which has since raised over $20,000,000 through Sporting Clays, Trap, and Skeet events. These events not only provided vital support but also raised awareness for Ronald McDonald House Charity Chapters, impacting countless families served by Ronald McDonald Houses.
Rick Bloniarz's participation in this tournament exemplifies Eastern's dedication to philanthropy and community engagement. It embodies our commitment to meaningful relationships and our mission to make a positive impact. Eastern is immensely proud of Rick's noble contribution and remains steadfast in supporting initiatives that bring hope and assistance to those in need.
For scores, squad photos, and event photos, visit RMCH-CNI's 25th Annual Sporting Clays Tournament
Photo Credits to RMHC-CNI