Eastern News
Izzi Gomez Makes History with Gold Medal Win in SUP Surfing at the 2023 Pan American Games
November 1, 2023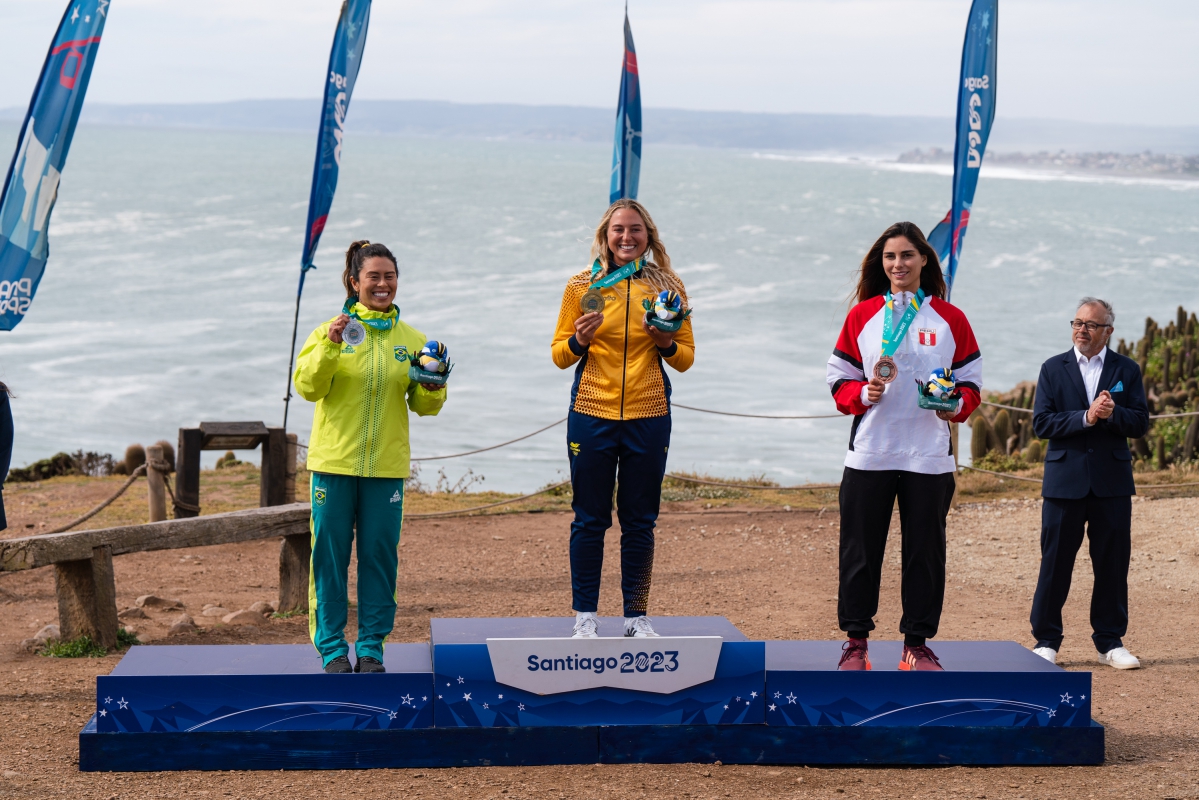 Photo Credit: ISA - Pablo Franco
From left, women's SUP champions Aline Adisaka (silver), Isabella Gomez (gold) and Vania Torres (bronze) at the Pan Am Games in Santiago, Chi
The Santiago 2023 Pan American Games concluded on October 30, featuring 88 athletes from 16 countries competing in four events: Shortboard, SUP Surf, SUP Race, and Longboard. The competition was held at Punta de Lobos, where substantial 10-15 foot waves provided a captivating experience for athletes and spectators. One of the standout surfers at this event was Eastern sponsored, Isabella Gomez, also known as Izzi Gomez, representing Colombia in the Shortboard and SUP Surf events.
In the Shortboard event, Izzi Gomez missed the podium, but she made history in the SUP Surfing category by clinching the gold medal. Her performance in Santiago showcased her unwavering determination, skill, and competitive spirit, building on her previous success at the Lima 2019 Pan American Games.
Gomez achieved a total score of 7.93, with individual scores of 5.33 and 2.60, outperforming her closest competitor, Brazil's Aline Adisaka, by a decisive 0.89 points. This victory reaffirmed her position as a champion in the world of SUP Surfing.
Izzi Gomez's gold medal in SUP Surfing not only marked Colombia's first surfing medal at the Pan American Games 2023, but also brought the national delegation its 13th gold medal. Despite her recent victory and past success in SUP Surfing, Izzi Gomez announced her retirement from paddle surfing, saying, "I think this is my last paddle competition. It's my retirement, and I'm officially announcing it. This has given me such a good career and so many good memories. I really want to focus on the next chapter for myself, which is big-wave surfing. SUP surf gave me my entire career. I'm very grateful for it, but I feel it has fulfilled its purpose in my life."
Isabella Gomez's gold medal and her decision to retire from SUP Surfing signify the end of one era and the start of an exciting new journey in big-wave surfing. Her exceptional achievements in SUP Surfing will be celebrated in the world of sports as she embarks on this new adventure.

Photo Credits: ISA - Pablo Franco & Pablo Jimenez