Eastern News
Going Carbon Nuetral
December 1, 2022
Eastern is committed to helping our customers thrive. That's why we've renewed our partnership with Carbonfund.org—to neutralize our carbon footprint and keep freight shipping safe and sound into the future.

We're all witnessing the symptoms of climate change right now. Coastal regions in particular are being increasingly affected as sea levels rise and weather patterns become more unpredictable. These kinds of environmental changes threaten transportation routes and disrupt day-to-day business operations.
We are committed to preserving critical ocean and land shipping routes by funding proven environmental initiatives that will mitigate our impact on climate. Our partnership with Carbonfund.org will help preserve our planet, stabilize our climate, and protect the futures of our customers.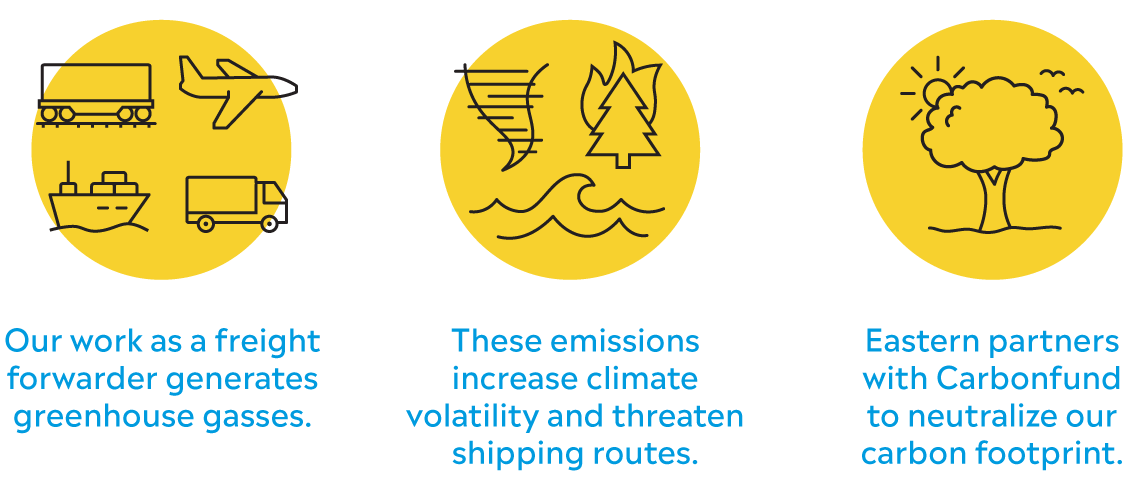 We're happily volunteering to track and minimize our carbon footprint. We do so by first calculating our annual energy usage and travel miles. That helps us determine how much we must donate to support the work of Carbonfund.org. Their work, in turn, neutralizes the carbon emissions our work creates.
We are currently supporting the Envira Amazonia Project. It's a REDD+ project (Reducing Emissions from Deforestation and Degradation) that protects nearly 500,000 acres of tropical rainforest. Funds for this project will help reduce millions of tonnes of carbon dioxide equivalent emissions, preserve natural habitat, and benefit indigenous communities.
For more information: