EASTERN IMPACT
Helping hands at Anti-Cruelty event
May 21, 2019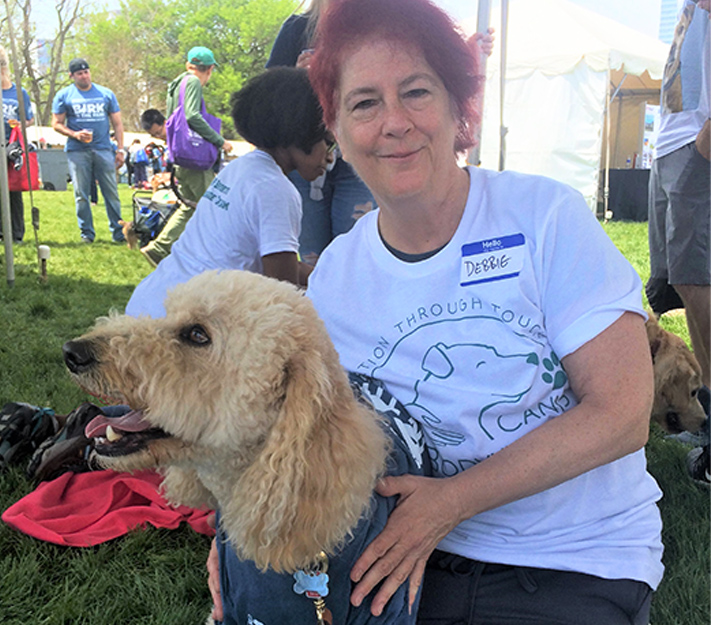 Debbie Cielen from Eastern Shipping Worldwide goes the extra mile for dogs in need by volunteering her canine massage skills at the Anti-Cruelty's "Bark in the Park" event in Chicago.
The Anti-Cruelty Society's Bark in the Park celebrates 25 years of raising funds to care for thousands of homeless animals.
You may not realize it, but the Eastern team — especially the Chicago team — loves dogs. We admire their unflinching loyalty, their unflappable good attitude, and the soothing effect they have on humans. (At least, all of us humans who like dogs!)
That's why we were thrilled to see thousands of people and pets gather at Soldier Field to enjoy a long walk along Chicago's lakefront to support The Anti-Cruelty Society. Participants helped to raise funds that will provide food, shelter, medical care, and second chances for thousands of animals in need. The walk was followed by a gathering for food, beverages, entertainment, and dog‐friendly demonstrations.
Oh, and there was one more perk at the event: sports massages for the pups on the parade route!
That's right: Eastern's own Debbie Cielen volunteered at Chicago's annual "Bark in the Park" fundraiser to provide sports massages to the hard-working dogs who showed up and walked the 2.5 miles for this great cause.
Most of you who know Debbie probably think of her in a very different role — as the cheerful but hyper-vigilant point of contact for overseeing the administrative details of their shipments and arranging new bookings. But when Deb is not moving cargo around the world, she works with dogs, providing canine massage to help sooth the aches and pains of injured or recovering canines.
Thanks for your volunteer service Debbie! We love to see you doing what you do so well — going the extra mile — for dogs who need some helping hands.
To see more photos from the event, visit the Anti-Cruelty's Bark in the Park 2019 Flickr album.
—————
Each story in our "Eastern Impact" series spotlights ways in which Eastern team members try to improve our world — hopefully to make it a kinder and happier place — either by engaging with their community or actively supporting important causes. Whether it's their daily work at Eastern, or their individual interests, side hustles, hobbies, or passion projects, our team is constantly on the move.