EASTERN IMPACT
Golfing for Good: 20th Annual Junior Achievement Lakeshore Golf Scramble
June 25, 2019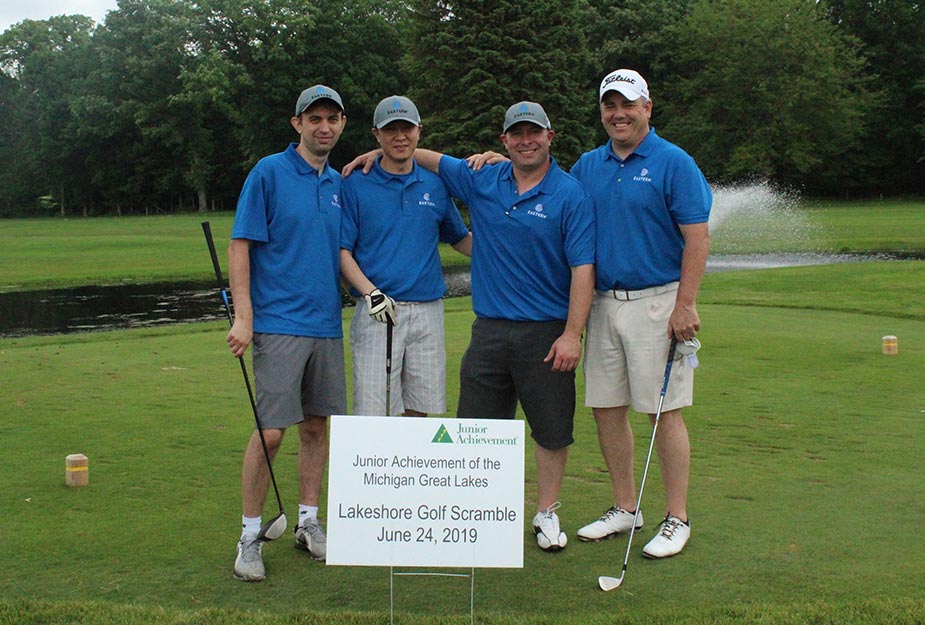 For two decades, this exciting annual golf event has combined food and prizes with fundraising. Event organizers, sponsors, and guests all join forces to help support life-changing programs for community students.
This year's event took place at the beautiful Spring Lake Country Club in Michigan. Eastern joined in the fun by participating as a Supporting Sponsor. The foursome included Eastern team members Edin Dzilic, Sean Kwon, Joe Davis and Rick Bloniarz. The group played an 18-hole scramble, and—according to Rick's behind-the-scenes reporting—they "played pretty good, hit a 72 on a par 72 course. Joe only yelled at the ball once or twice, and Edin improved (slightly) over last year".
After a full day of fun on the course, networking with Junior Achievement representatives, a delicious buffet, and a silent auction, the event wrapped up just before the rain started. And let's not forget the fantastic funds that were raised for JA. Eastern was proud to be part of such a successful team effort.
Get to know more about Junior Achievement of the Michigan Great Lakes or take a closer look at the variety of JA programs!
—————
Each story in our "Eastern Impact" series spotlights ways in which Eastern team members try to improve our world — hopefully to make it a kinder and happier place — either by engaging with in their community or actively supporting important causes. Whether it's their daily work at Eastern, or their individual interests, side hustles, hobbies, or passion projects, our team is constantly on the move.