EASTERN IMPACT
A huge racing win at Thunderhill spotlights charity causes supported by Eastern Shipping
December 12, 2019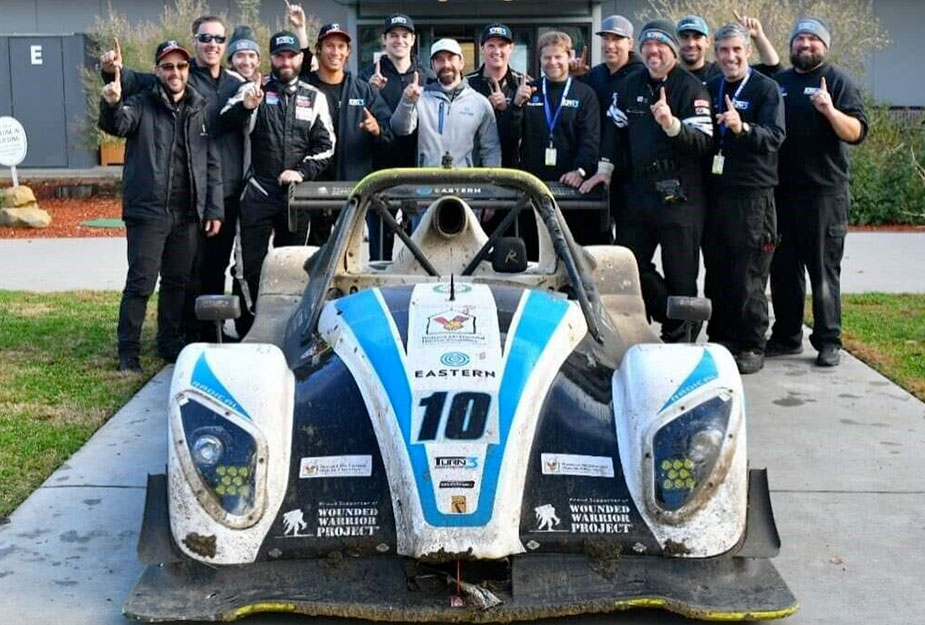 Pictured (Left to Right): Tom Drewer, Russ Gaglio, Neil O'Donovan, Darren Gazey, Neil Alberico, Antoine Comeau, Eric Wagner, Peter Dempsey, Emanuel Talquenca, Brian Halahan, Jason Dunford, David Budres, Pablo Egel, Scott Gates. Not pictured: Nathan Jones who works with Radical Cup.
To most that know him, Eric Wagner is the President of Eastern Shipping Worldwide. But, in an unlikely pairing of interests, Eric also drives competitively with Eastern Racing—a passion that has truly given voice to some favorite causes that Eastern supports.
In particular, that voice was heard loud and clear this past week when Eric competed in the noted endurance race—25 Hours of Thunderhill. He and three of his teammates tag teamed to drive the 25-hour event and a total of 672 laps. When the clock finally counted down, it was the #10 Eastern car (driven by teammate, Peter Dempsey of Turn 3 Motorsport) that crossed the finish line to take the overall win. The landmark victory was historic, as the Eastern 1340cc RPE-Suzuki powered Radical SR3 became the first car with an engine capacity of under two liters to clinch the outright victory in this event.
"A win like this means a lot more than just achieving the victory," Eric explains. "The accomplishment is actually an incredible opportunity to highlight the charitable causes that Eastern supports."
As it says on the Eastern Racing website, Eric sees a distinct connection between "Precision + Purpose" which is why causes like the Wounded Warrior Project and Ronald McDonald House Charities are displayed prominently on the team cars.
"I've been in the freight forwarding industry for my entire professional life, and anyone who does this for a living knows that the industry is all about moving from start to finish with precision and accuracy —preventing mistakes at every turn, and all the while knowing that timing is critical," Eric explains.
That sounds a lot like racing, doesn't it?
So, while the team at Eastern Shipping Worldwide is busy moving freight around the world, Eastern Racing is also busy showcasing the meaningful causes that take the company's successes to a more profound level.
As Eric sums it all up, "Life is about serving others and helping those in need. So, anytime we can do that—whether at Eastern Shipping or through our race team—we're supporting our belief system. Any time we can build on our successes to give back, it's very important for us to do that. It's a big part of why we're here."
Learn more about Eastern Racing and Eric's role on the team.
Learn more about Ronald McDonald House Charities (RMHC) and Wounded Warrior Project.
—————
Each story in our "Eastern Impact" series spotlights ways in which Eastern team members try to improve our world — hopefully to make it a kinder and happier place — either by engaging with in their community or actively supporting important causes. Whether it's their daily work at Eastern, or their individual interests, side hustles, hobbies, or passion projects, our team is constantly on the move.