EASTERN IMPACT
Tennis EVERYONE? Eastern's Operations Analyst promotes healthy love for the sport; competes in the 2019 USTA National Championship
October 25, 2019
The USTA/MIDWEST CHICAGO Team from the Glenbrook Racquet Club in Northbrook, IL: Pictured (L to R) Jayson DeVries, Todd Albert, Mike Spors, Feleo Tuazon, Renato di Sandro, Hugo vanderGoes, Mark Rawlins (Team Captain), Christopher Darnielle, Mark Hansen, Mark Vanston, Jason Macatangay, Chuck Blumenthal, Thieu Brown, John Li (Co-Captain).
Not Pictured: Bob Schnoll, Eric Mason, Joey Tran, Masanori Kobayashi, Paul Zuffa, Rex J Lao, Rick Aguayo, Werner Camoras, William Guthrie
One of the lucky players who earned a spot in the U.S. Tennis Association Finals was our own Renato di Sandro. He tells us what drives him to play.
After bringing home a trophy in the "Adult Over 40, 4.0 Men" category, Renato basked in the afterglow and shared a little about his journey as an athlete and team player.
"Thanks to my amazing teammates, we reached an incredible fourth place finish!"
Renato grew up in Florence, Italy, where as a young boy he began a lifetime of playing soccer. At the age of 12, he added tennis to his repertoire. Tennis turned out to be a great outlet in his teenage years, since it provided new avenues for socializing in high school beyond the soccer community.
Renato never stopped playing and competing in team sports.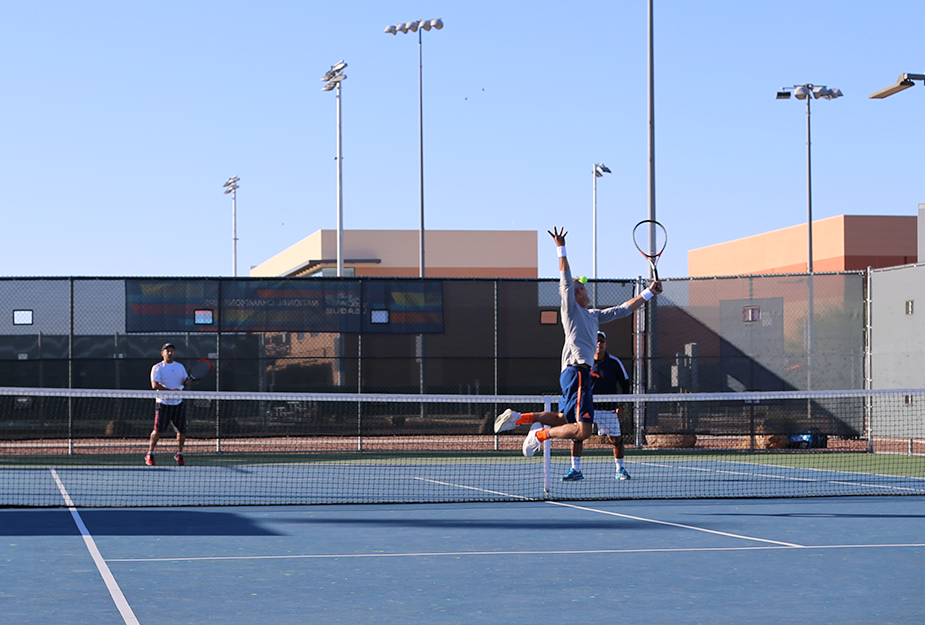 Renato di Sandro approaches the net and then goes airborne to deliver a strong backhand shot in a doubles match during the USTA Championship series.
Now that he is over 40 years "young," Renato looks back and realizes that his love for tennis has helped him to stay remarkably fit, strong, and agile. That's one reason why he has promoted the USTA tennis organization to others. He likes to remind people that, beyond the enjoyable social nature of the sport and camaraderie of being part of a team, tennis provides a very interactive way to exercise.
Want more details from the competition?
The season began with a whopping 1500 teams, but only the top-ranking teams attended the USTA 2019 National Championship October 11–13. Semi-finalists quickly narrowed over three days of hard-fought matches in Surprise, Arizona. The Chicago team had a fantastic showing, but ultimately surrendered a 2–3 tie-breaking match to Orlando in the Finals. Houston placed first, followed by Orlando, Salt Lake City, and Chicago.
"Being the fourth strongest team in the USA from all the teams nationwide in this category fills me with pride!," says Renato. "And it makes me even happier to have such incredible teammates, people who never give up and consistently supported me in the toughest moments of our beloved sport. Thank you, Chicago! And thank you, my team brothers!".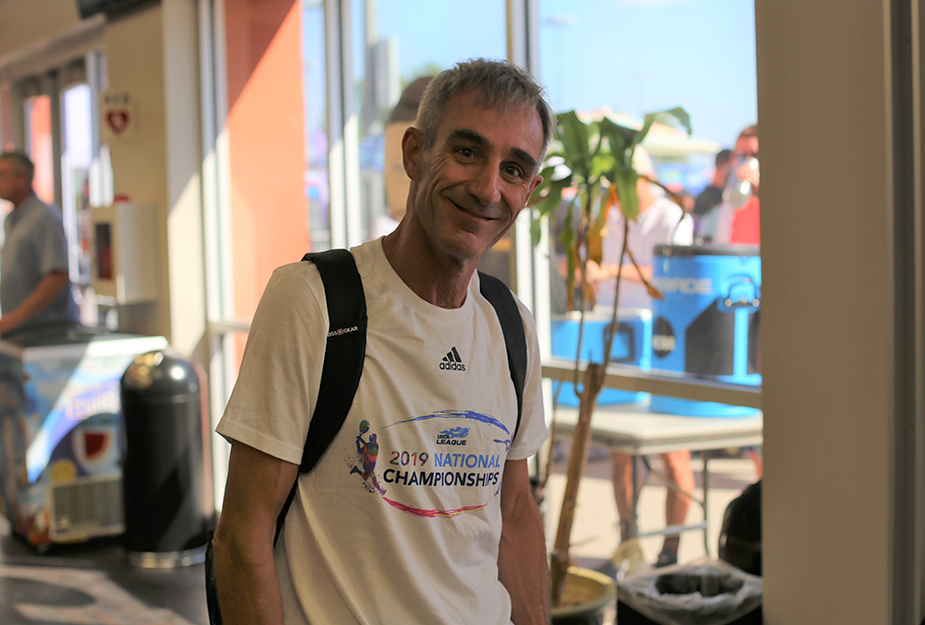 Renato di Sandro as we know him best - always smiling AND a team player!
Learn more about the USTA Organization.
Find a USTA league based on your zip code, age and rating.
Learn about Adult Recreational Tennis - About the USTA League.
—————
Each story in our "Eastern Impact" series spotlights ways in which Eastern team members try to improve our world — hopefully to make it a kinder and happier place — either by engaging with in their community or actively supporting important causes. Whether it's their daily work at Eastern, or their individual interests, side hustles, hobbies, or passion projects, our team is constantly on the move.